Here is a first selection of Barry's meditation audios. More will be added the coming months, as we are still in the process of making the best selection.
If you want to receive a notification on updates you can leave your e-mail address
here
'Start Here' – The Smiling Present Moment
This is a short practice that combines Barry's innovation of 'tok sen' tapping on the organs with healing sounds and smiling meditation.  A beautiful 10 minute taste of Barry's meditation style.
This is a physical and energetic practice that combines shaking, rooting and toning.
Rooting to Mother Earths Water
A standing practice which draws on the mother earth's water and the body's sexual essence.
The Body's Pure Water (kidney qigong, sexual health)
A standing practice which draws on the mother earth's water and the body's sexual essence.
Smiling Sounds Planetary Connections
A very deep and 'advanced fundamental' meditation on connecting to the planetary forces.
A deep and powerful smiling meditation.
A shamanic smiling meditation connecting to the forces of the seven directions.
Smiling Inside, Smiling Outside
A deep and beautiful smiling meditation connecting the body to the forces of nature.
Meditation on mother earth's natural forces.  
Connecting the body to the mother earth's natural forces.
A short practice that connects deeply in the core channel.
A meditation on the microcosmic orbit guided in Barry's unique way.
Shaking/opening the Orbit
A short moving practice to open the microcosmic orbit.
A meditation on the reproductive system for both male and female, including connecting the deep inner womb space to the seven directions.
Prostate Breathing and Smiling
Barry's innovative breathing practice to connect with the male reproductive system.
Barry's sexual health meditation with connection to cosmic forces.
Testicle and ovarian breathing through the microcosmic orbit.
Circulating aroused energy through the orbit.
A deep and powerful version of Barry's sexual health meditation connecting the body's energetic water system of sexual organs, kidneys, bladder and bones to the five planets, sun, moon, mother earth and stellar frequencies.
A meditation packed full of practices – spinal chord breathing, connecting to mother earth's elements, circulating orgasmic energy in the orbit and offering elixir to the mother earth.
A shamanic healing love meditation with ceremonial connection to the sacred directions.
A meditation to connect with parts of the body that need attention, love and support and setting a healing intention.
Shaking, Embodying Intention
Shaking and releasing the body, connecting to bones, thymus gland, and focusing on our healing intention.
A standing practice with earth pulsing qigong, microcosmic orbit and ancestral healing.
Toning in the Digestive System
A long deep toning meditation to clear and empower the digestive system.
Barry takes us through his version of the 'deep healing' qigong form.
A cosmic cellular healing meditation appropriate for practice after working with the previous meditations.
Ceremonies and Cave Meditations
Opening to the Directions and water sexual energy ceremony
A powerful ceremony to connect to the elementals of mother earth and planetary forces. Includes kidney/earth pulsing qigong and orbit.
A shamanic pangu ceremony at the spiral at Gwydir Uchaf.
Shamanic Pangu Ceremony Two
Including earth pulsing, pangu, sacred directions and ancestral healing.
These meditations are recorded inside the cave at Clogwyn Y Fawch Mine.
Aligning with heaven and mother earth, connecting with elemental forces, coupling sun and moon and connecting to cosmic stellar forces.
Toning/free-form chanting improvisation and healing sounds.
Barry's fusion meditations are appropriate for those who have completed the fundamental meditations and those who have studied directly with Barry.

If you are new to Barry's meditations, it is recommended that you spend time with other practices like the inner smile and microcosmic orbit before moving to fusion.

The 'Fusion Workshop' meditations are a concise and powerful presentation of Barry's fusion process. Once completed, feel free to explore the 'Additional Fusion Meditations'.
Toning and connecting with the mother earth's elemental forces. Creating and expanding the pearls.
Creating Baguas and Fusion of Emotions
Toning the eight forces in the baguas, connecting to mother earth and planetary forces and dissolving the emotions.
Fusion of Emotions and Dissolving Patterns
A beautiful deep fusion, dissolving stuck emotions and deep patterns and allowing the natural qualities of the shen to manifest.
The culmination of the previous meditations, including dissolving the emotions, growing the virtues and opening the deep channels in the energy body.
Additional Fusions Meditations
Fusion Emotions, Extraordinary Channels
A long practice with an emphasis on clearing the negative emotions from the organs.
Includes fusion 1, 2 and 3.
Linking with mother earths elements and creating pearls followed by a very gentle yin fusion.

A full fusion 1,2 and 3 meditation.
Full fusion 1, 2 and 3 with a greater emphasis on planetary and cosmic forces.
Short Maintenance Practice
This is a 20 minute fusion which can be used anytime to tune into the five elemental forces.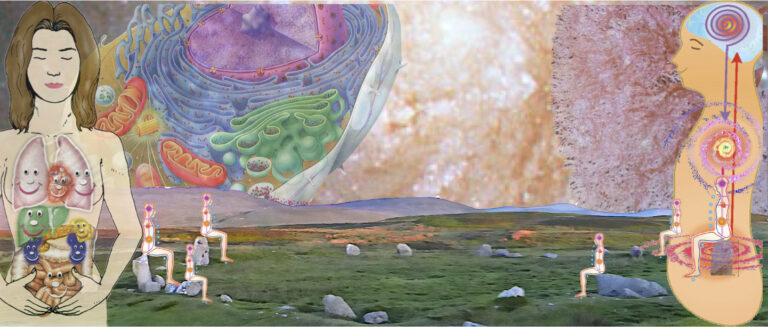 Why Natural Dao?
Natural Dao empowers people to realize and express their fullest potential.
It helps us to take responsibility for our physical, emotional, mental and spiritual health.
We learn to live more in the present moment cultivating love, harmony, integrity, power and kindness.
We embody ever more love and connection with ourselves, all beings and Mother Earth.